MINT

2010

The MINT 2010 architecture and components reflect that state of the implementation of the MINT framework in the years 2010-2011. All articles published in these two years refer to this version that has been published as open source. We are currently rewriting some core parts of the framework and will publish the next release as soon as we have first publications accepted.
Ecosystem
Click on one of the component boxes to learn more about the actual state of implementation.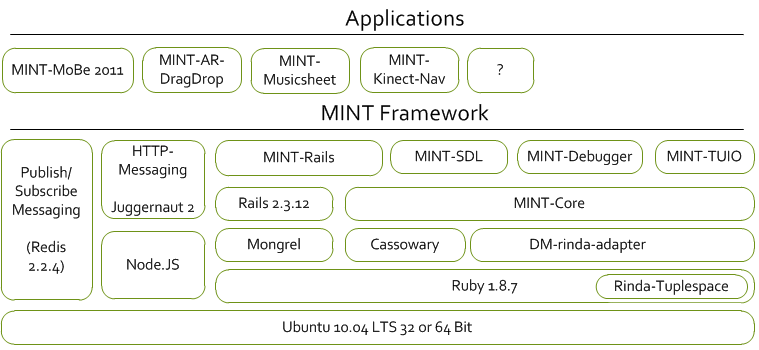 Abstract Interactor Model (

AIM

)
The Abstract Interactor Model (AIM) describes the media and mode independent part of the user interface interactors and therefore the overall interaction controls and views. At a concrete, mode or media specific interactor model the AIM interactors are detailed to include specific features. These features reflect the individual characteristics of a certain mode or media and enable enhanced accessibility and-or comfort in control or representation of the interface. The concrete interator model features are not relevant for the functional backend whereas the AIM interactors are limited to include all relevant data relevant for the functional backend.
The current AIM specification can be found here .
Concrete Interactor Model (

CIM

)
For each media or mode a Concrete Interactor Model (AIM) is used to describe its specific interaction capabilities beyond the basic ones that already are defined in the AIM. To each AIM interactor one or more concrete interactors can be associated for a specific mode or media. We are currently focusing on describing the concrete graphical HTML interface model.
The graphical HTML concrete interactor model will be published soon.
Interaction Resources (IR)
Interaction Resources are used to capture the capabilities of concrete devices implementing a certain mode to the user interfaces
The current Interaction Resource Model(IRM) specification can be found here .

Multimodal Interactor Mapping Model (

MIM

)

Multimodal mappings are the glue to combine the AUI, CUI and interaction resource interactios. Thus, they are used to describe an interaction (step) that can involve several modes and media in a multimodal manner. Further on the mappings can be specified on an abstract level. In this case overall interaction paradigms like e.g. a drag-and-drop can be specified.
The MIM specification can be found here .

State Chart

XML

(

SCXML

) Editor – scxmlgui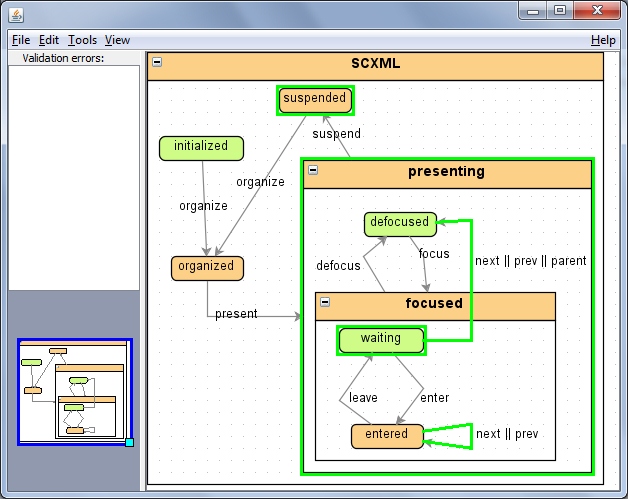 Interactors can be designed and manipulated with any SCXML editor. We are using the freely available scxmlgui editor .
The project page of the scxmlgui editor can be found here .

Google Chrome Browser

So far, all multimodal interfaces with the MINT framework are offered as web applications. Since we rely on some of the latest HTML standards such as HTML5, CSS3 and WebSockets we recommend using the latest Google Chrome Browser that can be found here .

Developer-centric approach
Designing and implementing multimodal interfaces for the web is still a complex task and so far the targeted audience of our approach are developers that are familiar with current web technologies like HTML5, CSS3, Javascript, the ruby programming language as well as start chart modelling. Multimodal interfaces are still subject of basic research and currently are only used in specific niches, such as in-car navigation systems or airplane cockpits for instance.
Even though we hope that in the future multimodal interfaces could be created by people without comprehensive programming skills, such as interaction designers, we are still focusing our approach on discovering the opportunities for multimodal web interfaces and follow a very technical approach.
The User
We are publishing all our example applications and multimodal control modes that we implement as part of our research projects as open source for others to experiment with our results. You are invited to download our example applications, such as the glove-based gesture recognition or the interactive music sheet that can be controlled by head movements to change and extend them as you like.
We are very interested in your feedback! But please remember that we are not focus on creating products. Instead we are doing basic research about multimodal interfaces and just implement prototypes that should demonstrate specific features. Since we are few people we can't effort any further work that is required to use these applications on a daily basis. But if your are interested in extending our using our work you are very welcome to do so. We will try to give you all support you need.
Gloves-based gesture and posture recognition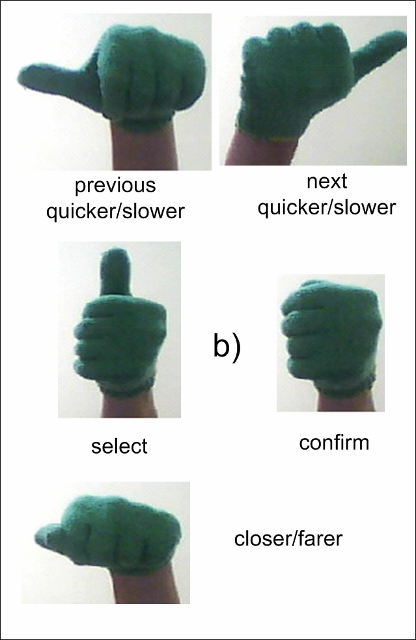 Based on an earlier project of finger spelling recognition of sign language we implemented a system that is able to recognize gestures using coloured gloves by doing segmentation based on the HSV colour space. We use images of 25×25 pixels and trained an artificial neural network Multi-Layer Perceptron (MLP) with an architecture of 625×100×4 neurons in each layer. This network is able to classify five different postures that we used in some of our research papers to control web applications.
The Glove-based gesture recognition is available on request for Windows. Since we do not have the time to clean up the source and had some problems running the software on newer windows versions
we are not willing to publish it on github. But if you are interested in using or improving it, please send us an email and we will send you the recognizer that can be used e.g. together with the MINT-MoBe2011 project.
Head-movement recognition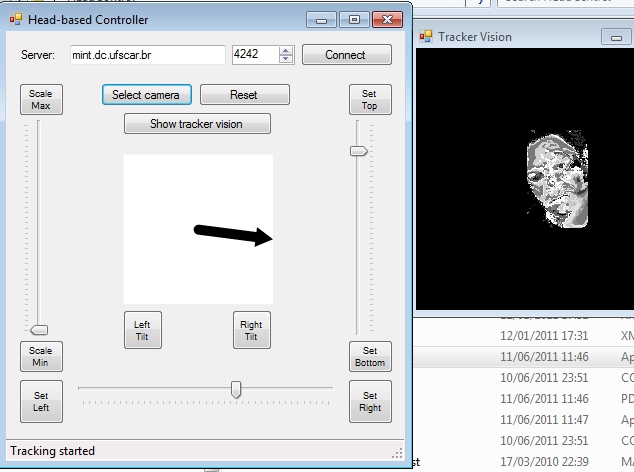 We are currently working on a face recognition and head tracking component. We use the Viola-Jones object detection framework for the recognition and the Camshift object tracking algorithm for tracking the head since we required a tracking at constant time and can be applied to track heads of arbitrary persons without the need for training.
As soon as we have published first results we will offer the head tracking component as open source.

Accord.

NET
The Accord.NET Framework is a C# framework extending the excellent AForge.NET Framework with new tools and libraries. Accord.NET provides many algorithms for many topics in mathematics, statistics, machine learning, artificial intelligence and computer vision. It includes several methods for statistical analysis, such as Principal Component Analysis, Linear Discriminant Analysis, Partial Least Squares, Kernel Principal Component Analysis, Kernel Discriminant Analysis, Logistic and Linear Regressions and Receiver-Operating Curves. It also includes machine learning topics such as (Kernel) Support Vector Machines, Bayesian regularization for Neural Network training, RANSAC, K-Means, Gaussian Mixture Models and Discrete and Continuous Hidden Markov Models. The imaging and computer vision libraries includes projective image blending, homography estimation, the Camshift object tracker and the Viola-Jones object detector.
The Accord.NET project homepage can be found here: http://accord-net.origo.ethz.ch/ .
Microsoft Windows
Unfortunately some multimodal components, like the glove-based gesture detection or the head tracker require Microsoft Windows. We are currently porting the glove-based
posture and gesture recognition to Ubuntu Linux since the rest of the framework has only be tested with Linux so far.

New gesture and posture recognition component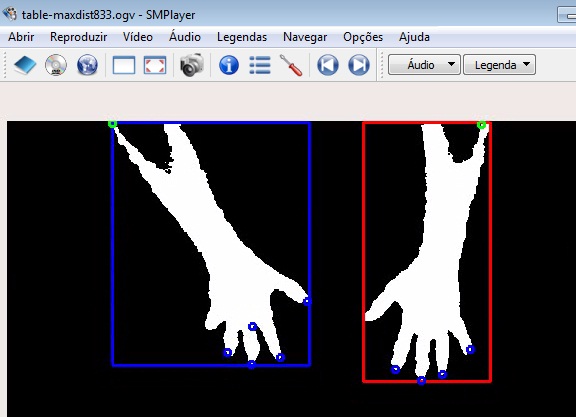 We are currently working on a new version of our gesture and posture recognition software that will work under Linux and supports both, gloves as well as a recognition without
colored gloves driven by the Kinect controller.
As soon as we have published first results we will offer the head tracking component as open source.
Ubuntu 10.04

LTS

Ubuntu is a fast, secure and easy-to-use operating system used by millions of people around the world. Most parts of our software are based on Linux and the binary versions that we offer are prepared to run on the Long-term-supported (LTS) Ubuntu Linux 10.04.x for 64bit and 32bit.

Please note that we do not support newer versions of Ubuntu since the 10.04 version figured out to run very stable compared to more recent versions. The LTS version will be supported from Ubuntu at least till 2015 .
You can download the Ubuntu 10.04.x installation CD from the official Ubuntu release download page" .
Further information about Ubuntu can be found on the official Ubuntu homepage